Smart gear bike balance is one of the most popular balance bikes available on the market. With a reasonable price, a classic goof look and safe features, it is gaining more and more popularity among many parents.
In this article, I will provide some information about balance bikes that come from Smart Gear along with providing review about their pros and cons.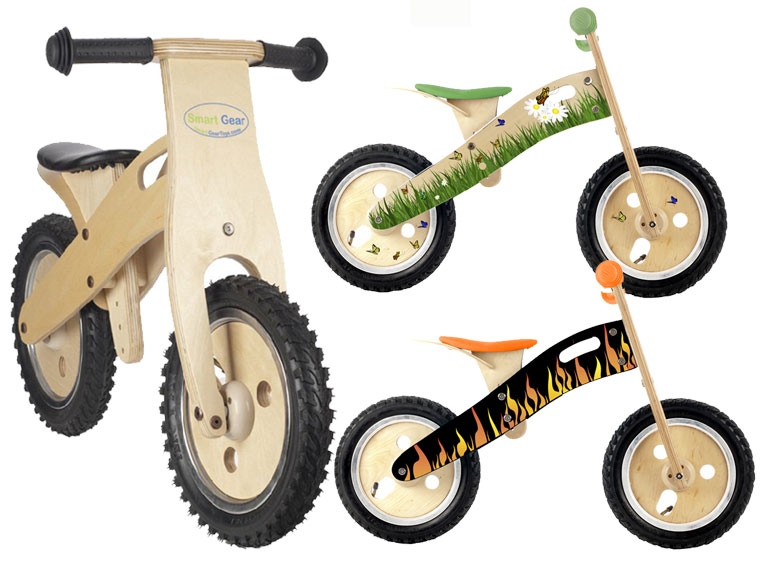 1. The Price
The most important feature that you should know when you buy something is the price. A Smart gear balance bike is not the most expensive but also not the cheapest balance bike on the market.
On average, a Smart Gear balance bike costs from 75 dollars to 100 dollars to purchase, which is very reasonable.
Furthermore, you should know that when you buy a balance bike like the Smart Gear balance bike for your child, you don't need to purchase a tricycle as well as the 12 inches bike with training wheels later on, which also helps you to save a lot of money.
2. The Material
Most of the Smart Gear balance bikes are made from wood. There are a few good reasons why Smart Gear balance bikes come with this material.
First, you have no risk of rusting like with a stainless steel balance bike. If you have the habit of letting you stainless steel likes outside overnight or when your bike get wet in the rain and snow, you will see how quickly the bike goes to rust.
With a wooden bike, you can prevent the rusting process from happening.
Another reason is that wood is a safer and more environmental friendly material than other material. Your child will have less risk to get exposed to harsh chemical in steel material.
Lastly, a wooden balance bike will be less heavy than other types of balance bike. Having a lightweight balance bike is very important as a lightweight bike makes it easier for your child to move around. Furthermore, when you have to take the balance bike for your child when you go to the park or the playground, you will see how important it is to have a light balance bike.
3. The Seat
Although the seat of a Smart Gear balance bike is secure and sturdy, it is quite hard to change the seat height.  It would take you from around 5 to 7 minutes to change the height of the seat while with other brands of balance bikes; it only takes you 3 to 5 minutes to do so.
However, you only change the balance bike seat once in a while so it should not be a huge problem.
4. The Look
I am sure that the Smart Gear balance bikes will catch your attention immediately with its cute and adorable look. Furthermore, it can be used for both of girls and boys so you can use it for your next child without making him or her feel embarrassed.
So for a Smart Gear balance bike, you should expect to have a good price for a good quality of material as well as a traditional good look. On the not so bright side, it will take you a lot of time to change the height of the seat. Furthermore, it has a relatively short wheelbase, which makes it quite hard for your kid to adjust to it when he first sits on.
Overall, investing in a balance bike could be one of the wisest decisions for many parents.  A suitable balance bike will help your child to learn how to balance and get quickly transfer to learn how to ride a normal bike later on.
There is a wide range of balance bike available on the Internet, which makes it hard to choose the best balance bike. There are a lot of things that you need to consider such as the prices, the sizes as well as materials and other quality of the bike.
In term of a budget balance bike, a Smart Gear bike can offer you not only a good price but also a very good quality and design which promises to last a long time and pay off the money you have invested in it.
As the owner of a website about kid bikes, Steven P. Parker has a lot to say about this subject. With his in-depth knowledge about kid bikes, he provides a wealth of information that can be useful for parents. From buying guide, safety instructions, maintenance tips to product reviews, comparison and more…his website covers all matters of concern about kid bikes (Steven P. Parker).